Description
"OH MY GOODNESS! I am obsessed! I bought these for gifts for two of my teammates- but I'm keeping one for myself and ordering more. I was seriously shocked at how bright the lights are! I love that there are three settings. I compared it to my expensive ring light- and for the price and the size of this- its so perfect! Very Happy with this order!"
⭐⭐⭐⭐⭐
Helena B.
Here is the secret to looking flawless in your selfies!
This little beauty ring light is all about making you look your best ANYWHERE! A ring light gives off that typical soft beauty lighting used in professional high fashion and beauty photography without being harsh and unflattering. It's like having a professional fashion photographer with you whenever you feel the urge to snap a selfie.
Simply clip this ring light on your phone and increase the brightness to your liking (3 brightness levels). Usable with both your rear and front camera.
There is no need to snap hundreds of selfies just for that one perfect photo, with this light you'll look like a star in every shot!
1# selfie light used by social media influencers.
the best option when it comes to selfie lights and is essential if you are planning on taking selfies to share with social media."
Shuttertalk.com
How this Clip-On Selfie Ring Light will change your life
✅  Always the perfect lighting – a ring light lights your face evenly and reduces shadows and minimizes blemishes while illuminating your eyes. Exactly why it is commonly used in professional beauty, fashion, and glamour photography!
✅  Create the halo eye effect instantly – When using our ring light, you will notice that it will give that special circular sparkle in your eyes, which looks fantastic in all your photographs.
✅  Rechargeable – never worry about having to replace the batteries of your selfie ring light. Simply charge it with the included mini-USB cable.
✅  Soft protective strips to protect your phone from scratches while keeping the ring light tightly secured in place.
✅  Multi-purpose – make videos in low light or even at night and take gorgeous selfies where others struggle with the available light. Use it as makeup light, to light your foodie shots or flat lays or even as emergency light.
✅  Lightweight and small – fits easily in your handbag so you can bring it wherever you go.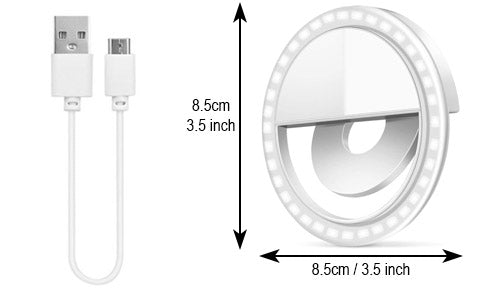 It's light that makes or breaks your beauty
You can't simply use natural light or your phone camera flash to create images that are both eye-catching and professional-looking – you need to start using a phone selfie ring light.
Photos from bloggers and social media influencers are nowadays better than ever before. The bar is being raised constantly in picture quality.
Beautiful photos are all about the right lighting. We all know using your built-in phone flash is a big no no creating harsh and nasty highlights and shadows on your face and show every skin blemish or irregularity.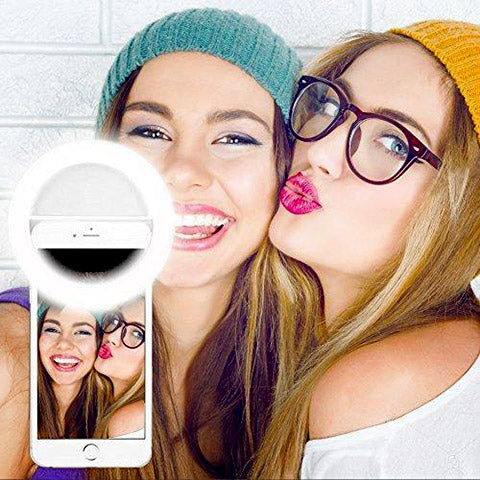 With the OOOVINTM Clip-On Selfie Ring Light you have a perfectly balanced light in your pocket anytime and anywhere, indoors or outdoors. Easily clip it on your phone, choose a brightness level matching the light around you and you're set!
How to take the best selfies with your Clip-On ring light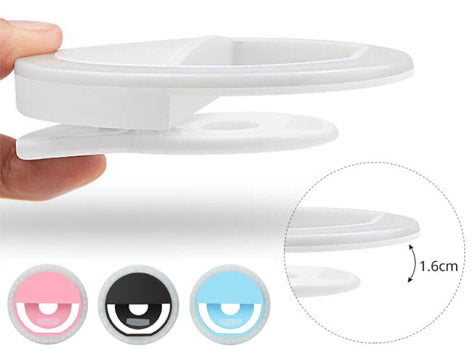 Depending on the available light around you, you may need to adjust the brightness of the ring light to suit your environment.
If you're outdoors, it is always best to face away from the sun, as looking into the sun will make you squint and creates harsh shadows on your face.
Get creative! Bringing the light closer or further away from your face will create different effects. Try different angles to get a quirky shade over parts of your cheeks and nose.
Raising the ring light higher or lower could produce an unusual effect with some forehead highlights or lowlights.
Just experiment!