Description
Oh what a difference lighting makes! I turned the light on! OMG what a difference. Can't recommend this product enough. It's given me the confidence to take selfies and show my face in videos without a full face of makeup. The setup is pretty simple.
⭐⭐⭐⭐⭐
Giovani S.
Dramatically improve your videos, online meetups, or livestreams
The OOOVIN™ VG-2 Selfie Ring Light kit significantly improves the quality of your videos, whether you're doing a makeup tutorial in your bedroom, a livestream from your office, or a cooking class in your kitchen. Just attach your phone, adjust the lighting and you're ready to shoot high-quality video.
The adjustable gooseneck arms allow you to have the perfect lighting from any angle. With the 10 level brightness adjustment you easily adjust the lighting to the ambient light around you to avoid bad, unflattering light on yourself. Even match the light color with the time of day – white, warm yellow, and warm white.
Why this will take your videos to the next level
✅  Adjustable brightness and color temperature – Eliminate harsh shadows and get well-balanced lighting: 3 color modes and 10 level brightness levels.

✅  Flexible arms – Bend and twist the arms to get the best angles for your video and light for any occasion.
✅  Strong desk/table clamp – Attach your light anywhere on your desk or table or even a nearby bookshelf.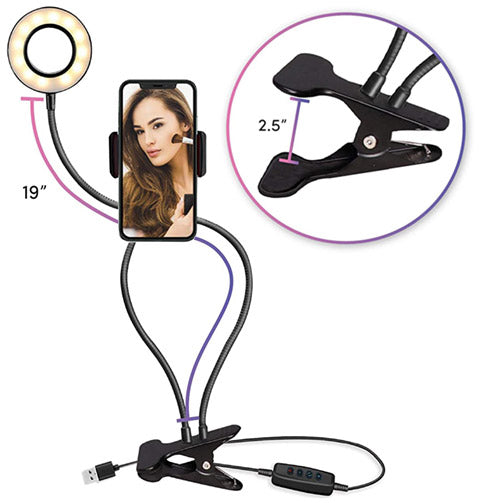 ✅  Universal smartphone clamp – Compatible with all iPhone and Android phones from 2.2 to 3.35 inches (5.59 to 8.5 cm)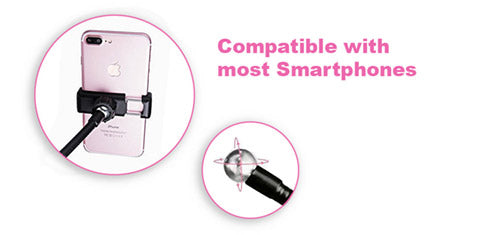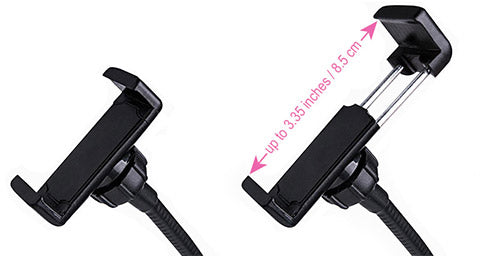 Powered and controlled by a USB Type-A cable with an in-line remote control.
It is Light That Makes You look good online
Here we are, having an awesome idea for an online video, but we need to ask our friends or even hire a crew to help us shoot it. We can't simply rely on room lighting and expect to look great in your online videos, let alone simply rest our phone against a glass of water to get a decent shooting angle. We got to start using a good light and camera setup.
Creating high-quality footage is all about the right lighting and camera angle. With the OOOVIN™ VG-2 Selfie Ring Light kit you're all set up for professional-looking videos, livestreams, or online meetups. Simply attach your phone to the smartphone clamp and bend the arms in the perfect angle. Turn on the light and in a split second you have professionally lit your setup!