Description
"Amazing being able to have 6 fingers for game play. I bought this one because it had 4 triggers. Instead of the others that only have 2. Having 4 triggers / 6 fingers to hit the screen to do something takes your game play to a whole other level. Because you can only do so much with your 2 fingers, then adding 2 trigger/buttons helps some for sure. But this, this is next level. ESPECIALLY FOR THE PRICE! It's changed my COD game play for the better!!"
⭐⭐⭐⭐⭐
Reagan M.
Take your mobile gaming to the next level
The OOOVIN™ Gamepad is a full-featured gamepad that allows for 6 finger operation and locks in your phone securely. The conductive touchpads hide nearly invisibly on the top of your screen and ensure lightning-fast reflexes and tactical reactions.
A fully compatible gamepad with all mobile devices giving you an extraordinary edge over your enemies in any game!
Especially for:
How this gamepad will maximize your gameplay
✅  6 fingers operation – just use your index and middle fingers to pull the triggers and shoot, aim, or perform any other tactical moves. Fully adjustable to your personal preferences.
✅  Richer gaming experience – see more of your games, as you won't be covering half of the screen with your fingers.
✅  180° flip minimally designed conductive touchpads – always have a clear view of your game map or HUD with the unobtrusive flipping touchpads and never miss a move with their fast and sensitive response.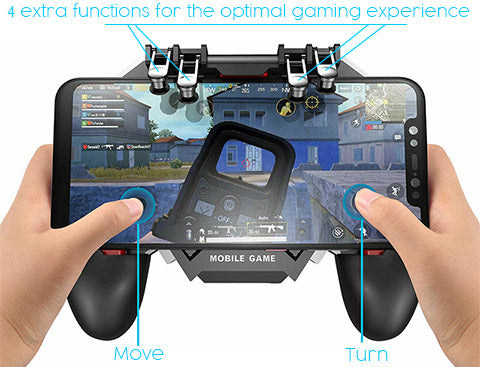 ✅  Durable alloy triggers and touchpad arms can withstand +100,000 clicks.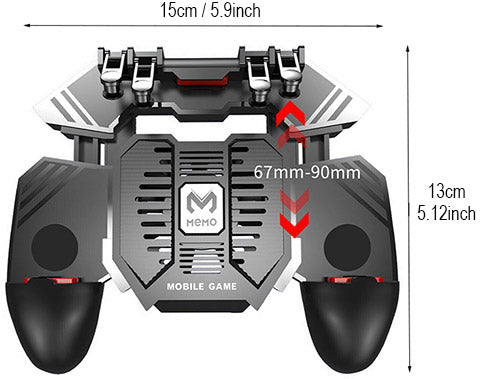 ✅  The telescopic grip securely locks in your mobile device and allows for unhindered playing while charging.
✅  The ergonomically designed shape makes it easy to handle and fits the gamepad comfortably into your hands.
A must-have gamepad for hardcore players of battle royale games or any first-person shooter!
Designed to wreck your enemies, not yourself!
Tapping around wildly on the screen without any tangible or tactile controls can be a frustrating experience. Trying to use all the essential touchscreen controls makes it cumbersome and your gameplay inaccurate and flawed.
Not using an ergonomically designed device can even cause severe injuries such as "gamers thumb" or tendonitis.
With the OOOVIN™ Gamepad you can transform your compatible Android or iOS device into a fully-fledged gaming device! Use the OOOVIN™ Gamepad to take total control over your games on your mobile device and crush your enemies!
How to set up the OOOVIN™ Gamepad
Start your game, and press "Settings – Control – Customize"
Move the "Fire", "Aim" and any two other buttons to the top of the screen
Adjust the buttons and line them out under the 4 touchpads of the gamepad
Save your settings